Web Design
I started developing websites in 1998. Influenced by the book HTML Artistry, I was fascinated by the idea of using a programming language to create visual designs. Here are a few of the websites I've created.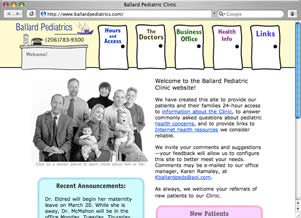 Ballard Pediatric Clinic
2001-2015
After formulating website goals with the pediatricians, I created several designs and we selected the one that most closely fit their vision. Then I constructed the actual website framework while the doctors finished writing the site content.
Over time I have expanded and updated the site with announcements, forms, and other information requested by the pediatricians.
The Accidentals
2004
This a cappella group wanted a clean and catchy online presence where they could share news and photos and provide contact information for fans and potential singers. The graphic design plays off the "accidentals" theme, while subtle animation gives the site an extra sparkle.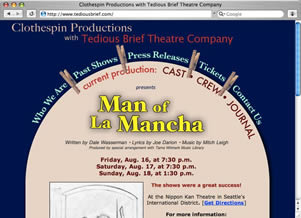 Tedious Brief Theatre Company
1999-2002
This is the last in a series of site designs that I created for each of four theatre productions. All of the sites feature information about the show and the company, cast and crew listings, press releases, and a production journal updated by the cast.
In addition, a password-protected member section provides cast and crew members with user-updatable contact information, an event calendar, and communication tools.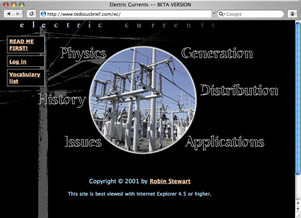 Electric Currents
2001
I had a grand vision for a Web site about electricity. Like a network of power lines, every page would be interlinked with other related pages, encouraging visitors to chart their own path through the material instead of following a rigid structure. The goal: "to give citizens the knowledge they need to make energy decisions wisely."
Tens of pages of tutorials, hundreds of text files, and megabytes of server space later, the vision was nearly complete: databases housing text content, images, and citations; a vocabulary system letting users save personal lists; and a set of administrator interfaces for creating and organizing content. Only one thing was missing: the crucial content itself.
For the full story, check out the description included in the beta site.
The Hero's Path
2002
This site promotes a guided river-rafting expedition in the Grand Canyon. I originally created a one-page design that outlined the mission and crucial details of the trip. Later I expanded the site to accommodate more detailed information, pictures from previous trips, and an application form.